I've been wondering: is my tremor worse when heart rate and blood pressure higher? Tremor is sometimes treated with beta-blockers, which are also used to treat high blood pressure.
From essentialtremor.org
Beta-blockers, also known as Beta-adrenergic blockers, beta-blockers are a class of drugs that block beta receptors in the brain. Beta-blockers decrease the effect of the sympathetic part of the autonomic nervousbsystem and are commonly used to reduce high blood pressure and treat migraine. They can also suppress tremors in many patients with ET. There are several types of beta receptors. It is thought that the development of drugs that could act specifically on individual beta receptors would lead to more effective tremor control. Propranolol (Inderal®) is a beta-blocking drug.
So, is my tremor worse when my heart rate is high? Tonight I did not feel very tremory, so I wanted to check with the g-Force sensor, and so I did the test right after measuring my blood pressure and heart rate. The three BP/HR measures are below. My median BP/HR in the last 30 days 128/80/64. Here BP is normal (for me), while pulse is higher.
132/82/78
128/81/77
125/85/77
HR is probably high because I recently got back from coaching my daughter's soccer team, which is always a lot of exercise.
Tremor, on the other hand, appears to be somewhat low, which is what I'd guessed.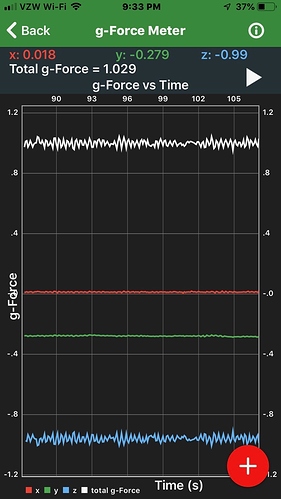 sensor.csv (341.4 KB)
I did some more reading on beta-blockers and tremor, and at least one recent source explains that the mechanism of action of Propranolol in reducing tremor isn't through lowering heart rate and blood pressure, but through interfering with "effects of peripheral noncardiac beta-2 receptors located in the muscle spindles." (See Pharmacotherapy of Essential Tremor by Peter Hedera, František Cibulčík, and Thomas L. Davis
So the BP/HR and essential tremor idea may be unproductive.