Got amazing list here.
Can anyone recommend a sensor that is able to track Blood Pressure, Sp02, Heart Rate. Any other measurements would be a bonus. Need to gift it to my dad.
-Abhi
Hi
Just a brief side comment here – I started with a fitbit
IMHO fitness trackers are OK and certainly walking more is going to get you more fit but structured exercise is what really takes you to the next level and for that Garmin devices are the dominant tools because they have a lot of capabilities for structured exercise routines esp endurance sports.
And I would be very remiss if I failed to mentioned DC Rainmaker's Blog / Review site which is pretty much the gold standard for what I can tell for reviews of fitness oriented measurement devices – everything from the Apple Watch to the Fitbits to the Garmins, Polars and Suunto
Now as an enthusiast cyclist I measure the following items to track fitness (and yes my friends think I am an obsessive nutcase but I find it fascinating and very empowering). And it takes a lot more than one sensor to do this.
Heart Rate
Watts Generated at the pedals
Cadence of bike pedals
Speed of bike
Elevation
Duration of the exercise
Blood Oxygen Saturation (not happy with that device)
Heart Rate Variability
Sleep length and Quality
Muscle quality and body fat
Diet
I've worked my way through fitbit - polar watches and sensors-- wahoo iphone stuff – and now mostly garmin stuff. My bike has 6 sensors on it now (if I counted correctly).
Much of this is feed into a mathematical model of exercise stress and fitness

Using an Open Source tool
http://www.goldencheetah.org/
And an automated AI coaching program

Which dynamically plans my workouts and estimates my fitness level, recovery state, etc. and works pretty darn well I think
And no way am I way clever enough to figure all this out – its basically a shadow copy of how the professional cyclists train and so this technology has trickled down to the likes of me.
But there is a sort of breakpoint between a Fitbit Blaze which my wife has and is only so-so for exercise IMHO vs the dedicated fitness devices e.g. Garmin Forerunner, Garmin Edge, Suunto Ambit etc. and the like … so if you see a gym or running or cycling or rowing or strength training in your future please take a look at DC Rainmaker's website.

Best
George
Coggan Performance Management Chart
AKA a graph of my current fitness level over 6 months with estimates of Fitness the upper blue line with the linear fit, acute exercise stress (upper purple line), Training Stress Balance (how recovered I am) the lower yellow line etc.
(sorry the color descriptions were incorrect before because I had f.lux running – duh)
Cool stuff I think! But pretty much par for the course for competitive cyclists (which I am not).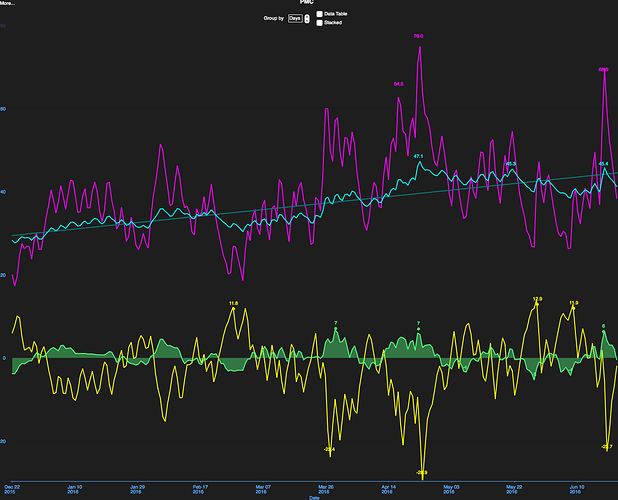 Hey George,
I would agree that Garmin's tend to be the best bet for structured endurance activities at least from all the reading I've done and from others feedback.
I don't have a good feel for what the best devices/trackers are for resistance training on the other hand. It seems like one needs a totally different set of metrics.
Sergey
Hi Sergey
One of our members Shannon Conners blogs about measurement (absolutely puts me to shame) and describes using a Push
She also has a post about the different strength training gizmos she looked at
Push is described here:
PUSH is the first scientifically validated wearable device to provide true objective insights about your performance in the weight room. Our patent-pending algorithms are able to detect every repetition you perform and provide actionable feedback during and after each set to let you know whether to keep pushing or to hold back.
PUSH was built with the best in mind and is actively used by over 50 professional teams across the NFL, NBA, MLB, NHL, EPL and AFL. PUSH is used by athletes in over 25 countries across 6 continents. Coaches and athletes at the elite level struggle with the same challenges all of us go through, they need to know when to optimize their time in the gym and reduce their risk of injury due to overtraining. Leveraging Velocity Based Training as well as a suite of advanced screening tests, coaches can establish baselines for their athletes and monitor their progress in real-time towards their goals for each phase.
Sounds way cool but since I am more of an endurance guy probably won't pursue it.
Reminds me of the smart tattoo on Fitnesstracker24.com
Scientists of MIT and Microsoft had developed a temporary tattoo that is placed on your skin and will measure for example your skin temperature. Moreover it should work as a "user interface" that will show your current mood (red if you are angry
) or could work as an NFC tag.
And the smart tattoo is considered to be fairly cheap because standard materials and cheap equipment can be used for the production process.
http://fitnesstracker24.com/smart-tattoo-duoskin-on-skin-interface/
The only thing i was wondering is, if the connection to the the smartphone will also be wireless? Because I wouldn't like my arm to be wired to my phone
Hello guys !!!
i am using Smart Sport Fitness Tracker M2 Band By ThinkRace Technology
having to many feature in 1 tracking device .
Here is some of the features:
Steps taken
Distance traveled
Calories burned
Heartrate monitor
Sleep tracker
Call & SMS reminder
Sedentary reminder
Multi-alarm
IP67 waterproof
Share exercise data on social media
USB wireless charging
I use a first generation Garmin vivofit and an androidware smart watch. No optical Herat rate because that is useless. I use the Garmin for the heart rate strap, one year battery and it was cheap as dirt. It's also water resistant. I get fair sleep data from the Garmin and sometimes use sleep as android on the smart watch for better sleep data. I occasionally sleep with the strap to get accurate resting heart rate, but the strap will move at night and it's not very comfy.
I have found Fitbit Blaze to be perfect for me until now. But as they, there is always a room for improvement. Like the dashboard software could be improved. It randomly stops syncing which makes me lose valuable data.
I just started using a Bellabeat Leaf. I got it because it can be used to track menstral cycles, moods, and fitness all in ine device. Have heard mixed reviews about it's accuracy though.
I prefer Garmin Vivofit to FitBit Flex 2, especially because it carries more weight than the latter. Speaking of Garmin, it is, by all means, the real waterproof fitness and activity tracker if you ask me.
I love the battery life feature. It is hard to come by a product that can last 364 days without charge. The likes of FitBit Flex 2 can only last 5 days, and then the battery runs out. If you are like me, then you shouldn't go for anything less than a tracker with an attractive battery life.
Then there is the Time to Move feature that astonishes me somehow. How this thing is able to track every hour of inactivity baffles me. But it is by far the best feature, in my opinion. Especially for people who shouldn't be leading a sedentary life anymore.
It is also able to track my sleeping patterns, and I am able to know how much calories I eat. Moreover, it is also able to monitor heart rate.
The most interesting thing is that there is a lot of debate on time on whether to choose FitBit trackers or buy Garmin wristbands. But as I said, what makes a unique gadget that can monitor your activity depends on what you are looking for.
Which one?
How cheap?
Water Resistant for > Sweaty workouts? Shower? Swim?
I have the vivofit 1 (just vivofit). They sell them refurbished for ~$35 if you look around. I bought the HR strap for the same amount, roughly. You can swim and track swimming with the vivofit. The HR monitor strap (soft strap premium, they have another model) is waterproof, but apparently doesn't work while swimming (I only swim recreationally, not as sport/exercise). I do a lot of weight training and some HIIT training, as well as martial arts. It's awesome to see my HR jump to 170 with intense exercise or from the adrenaline rush of sparring. There's no lag and the graph provided in the app is fun to look at after a workout. You can see the spikes with each set of exercise, and since I use a timer for my sets it's very rhythmic.
Anyway, I've noticed the subsequent Garmin vivofits are now going for about the same price or slightly more, and may be better than the one I have. If you don't want remanufactured, they're all under $100.
He, probably, is talking about Garmin. Yes, it is unbeatable when it comes to battery life. And unlike FitBit Charge 2 and FitBit Flex, it pretty much sells for cheap.
Can you please enlighten me on the significance of a GPS on an activity tracker? What good role does it really play? I haven't taken the GPS part seriously of late. So, maybe I still have a lot of research to do on the topic
GPS is useful for activities like running or cycling, where you want to know distance, time per split, see where you slowed down or sped up etc. Whether the GPSr needs to be in the tracker (vs in a paired mobile device) is another question…
Well, as far for me I have been using fitness trackers quite a long time for now, and I've came to conclusion that "Misfit" is really suitable and very convenient for me. I've been using it from past 6-7 months and till date hasn't given me issues!
It is Water resistance, so I can swim all I want
It is cost-efficient
Automatic activity tracker
Notification support
I Love it for the best!
I use an Apple Watch with a few additional integration for self-tracking. For example, like HeartWatch (icon with your HR), AutoSleep (auto-tracks sleep at night), and Strava for GPS runs.
Compared with other devices I've used and tried, Apple Watch 2 like other Apple products remains the most reliable. It's easy to configure, reliable hardware, plenty of ways to visualize activity and tracking, and not that difficult to get all your data off it for personal analysis. The downsize is battery life which only lasts a day really, but all you need to do is figure out a routine to plug it in once or twice a day and you should be fine.
Here is my original write-up on it for self-tracking, which largely still holds true: http://www.markwk.com/apple-watch-for-self-trackers.html