Hi everyone!
I'm Zara, a longtime lurker and a cofounder of Calixa. I've been developing a guided self-experiment app, Calixa, for a little while now and have finally published it to the App Store.
The primary focus of Calixa is making complex wellness topics accessible and interesting to everyone and to minimize the friction that arises from complex logging schemes. We aim to make achieving actionable personal insights as painless as possible.
The self-experiments will include hacking mood with food, decaffeination, lymphatic drainage, intro to Ayurveda, learning to listen to the body, getting over jet lag etc. The idea is to experience the concepts from latest research personally and draw on conclusions from historical data of logged moods and activities during the experiments.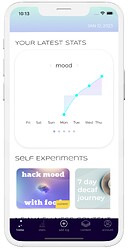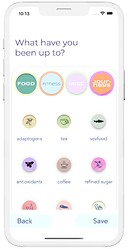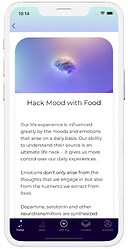 I would love and appreciate any feedback from the quantify self community. There is an inevitable loss of precision when creating minimalist tools and requires deep experimentation knowledge and insight that is abundant here. We wonder if the mood and activity metrics are intuitive enough and make sense to others? Do the self-experiments motivate and inspire change in the way that we hope them to be?
Please feel free to reach me here or my email zara@calixacare.com
Calixa is available on iPhone only for now, my apologies (I had to choose my coding demon and chose what I was already familiar with).
Website: calixacare.com
In the future we are looking to develop integrations with wearables but never at the cost of accessibility or simplicity. We would also like to make moods and activities customizable so people can focus solely on metrics important to them.