Hey QS!
We've been building a Biometric home - think of it like a Wallet for your Health data (sign up here). We just launched into Private Beta and we're onboarding people every week. One of the features we launched is really cool and I think the folks here would like it.
We call it Lab Mode : Correlational analysis on your Health data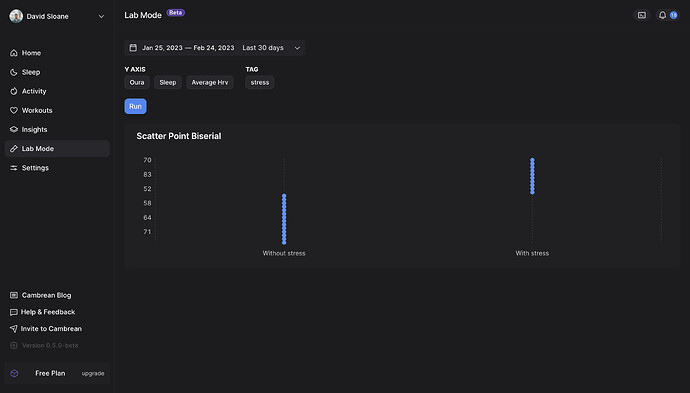 You can start to understand the relationships between your metrics and your tags. Example :
HRV + Total Sleep : Is your HRV higher or lower when you have more sleep?
Stress + HRV : How is your mood affecting your body?
Change in Medication : How are these changes affecting you?
We've built an advanced tagging system, where that context is applied to all of your data and it is used when generating your insights. You can also use your tags in Lab Mode. We're really excited for this launch. It takes the guess work out of the things you usually make assumptions for. Currently, you can connect the following devices to Cambrean :
Oura
Whoop
Eight Sleep
Garmin
Strava
Fitbit
Peloton
We're launching our iOS app very soon, which is when we can start adding the Apple Watch and other integrations. You can watch some demo's of Cambrean here
Happy to get some QS folks onboarded