Hey all,
I've been working on a building a person work tracker, built for us as individuals, not our companies/managers. In a lot of ways, it's like a Whoop/Fitbit but for your work. I'd love to hear your thoughts and feedback.
I'm love quantified self apps and I have an Apple Watch which I use religiously to track my health metrics. I realized that I track almost everything I do (exercise, sleep, meals) but I have no metrics around how I work. I couldn't tell you how long it takes me to complete a task or how much time I spent on email vs messaging vs coding (I'm a software developer). There's Apple Screen Time but that doesn't really dive deep enough for me and isn't particular to work.
With that in mind I've decided to build Rize. The goal of Rize is to provide users with metrics around their work so they can become more efficient and productive. It's still in development but it's a Chrome extension and a desktop App (Mac now + Windows on the way) that tracks what (whitelisted) sites you visit and apps you use and for how long. It can track specific work items like a Google Doc and tell you when and how long you spent working on it. It then aggregates all that data into beautiful visualizations so you can spot trends + chart progress. I've included a couple mockups below: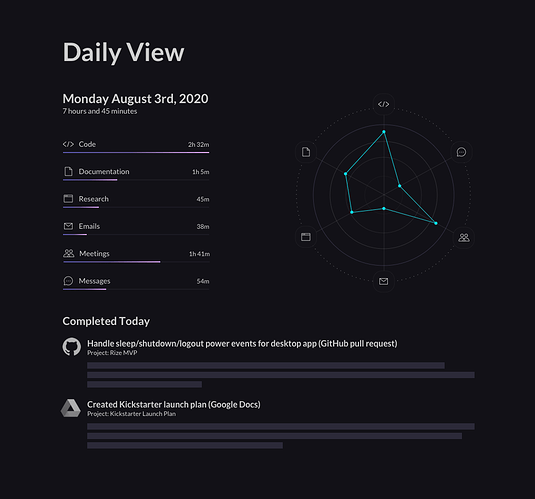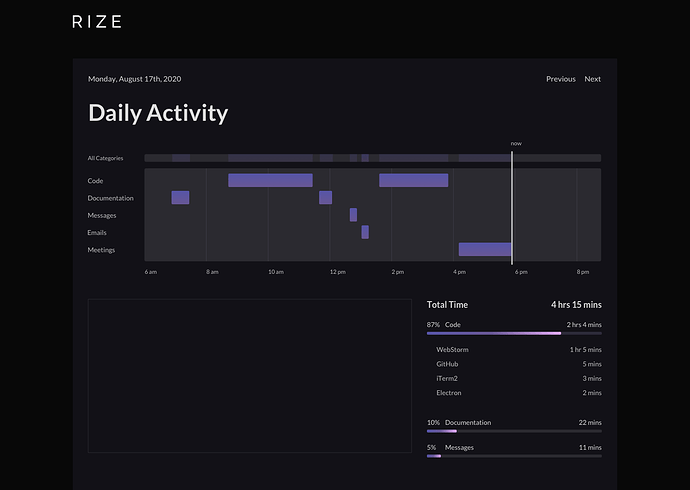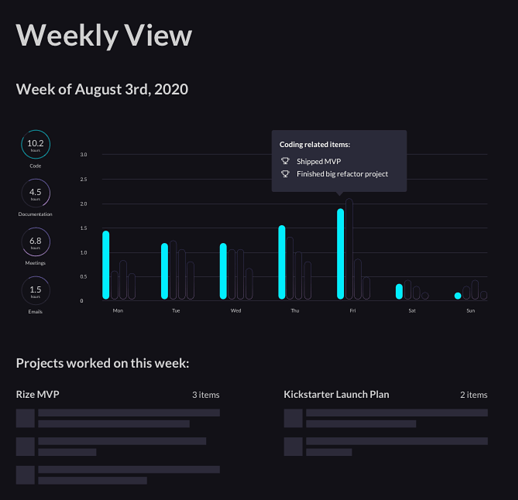 I've already got a working prototype that I've been using and I've found it to be really helpful. Just using it a couple days I've been able to see when I get my best work done (mornings) and how I need to reduce context switching in the afternoon. I've also greatly reduced my time on Twitter during the work day. Overall, it's been amazing to see my time metrics for work and get an understanding for the first time of how long things actually take me to complete.
One thing I think is really important is that this info is only meant for the individual and not a manager/company. I think it'd be way too intrusive if a manager could see this (imagine sharing your Apple Watch data with them). Anyone else have any thoughts on this?
I'm posting here because this project is still early on and I'd love to get some feedback from you all. You can checkout the home page here (it's pretty barebones right now) and we just launched on Kickstarter so you can read a lot more in depth details there.
Thanks,
Macgill