I've posted a lengthy writeup of my recent experience replicating the "Fasting Mimicking Diet", based on a study that was published in Cell Metabolism (and funded by the National Institute of Aging), where researchers found that cutting daily calories in half for just 5 days every 30 days reduced biomarkers for aging, diabetes, heart disease and cancer with no adverse effects.
The main guidelines are:
Day 1: Total caloric intake of 4.5 to 7 kcal/lb of body weight (10% protein, 56% fat, 34% carbs)
Days 2-5: Total caloric intake of 3 to 5 kcal/lb of body weight (9% protein, 44% fat, 47% carbs)
Which for me translated to 774 total calories on day 1, and 516 total calories on days 2-5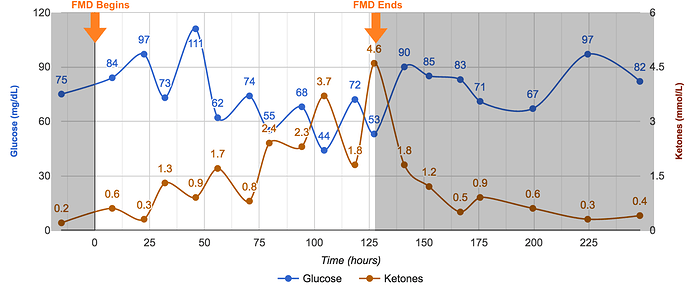 I was able to lower my fasting glucose from the low 80's to the mid 40's (mmol/dL) while steadily moving from "nutritional" ketosis to "optimal" ketosis.

I experienced a slight loss of weight and body fat while maintaining muscle mass (usually fasts have a catabolic effect), and huge rebound effect to testosterone upon refeeding. And such vivid dreaming and mental focus!
My post contains a lot of data points (along with the Google spreadsheet I used for the experiment).
Has anyone else done any fasting-related experiments?