I have been tracking my reaction time somewhat haphazardly but tracking my weight more frequently. I use a digital scale to log my weight without clothes and use my own reaction time app to gauge median reaction time (which is typically about 250msec for me). I use an old version of Keep track to log this data.
I hadn't been thinking of it but today I was curious to see how my reaction time data compared with my body mass data. The data is somewhat noisy so I decided to aggregate it over monthly intervals. I got this interesting graph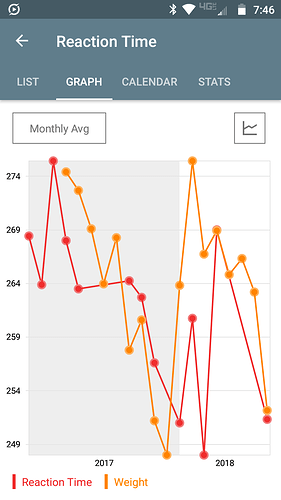 I didn't expect to see anything resembling a correlation so I was kind of surprised to see what looks like one.
Here is my visual reaction time app I made for Android. (Disclaimer: really not sure what the uncertainty is in my reaction time measurements… I think it can take up to 1/60th of a second to update the graphics screen but I tried to keep the code as tight as possible)