Hi, last week I shared at the Keating Memorial event a self-intervention I did during May to try understand better my relationship with the smartphone. Basically gathering reactions with a one button tracker and in parallel with annotations for the most relevant events during the "absence" of the smartphone - and my kind of user experience switching to a dumbphone. I also share here my slides in case someone is interested or doing similar things.
Enric digital minimalism intervention - May 2021.pdf (1.5 MB)
One of the questions I think from @Steven_Jonas was about rebounding effects after such type of "withdrawal" intervention, which I had no time to answer properly then. I think this is very important for what I'm trying to do in further approaches to the topic, so what I'm figuring out how to do more systematically now is a combination of similar tools adding Activity Watch (for the periods when I'm back to using the smartphone as usual).
For example initial data from Activity Watch for July (when I was several days on holidays travelling and trekking, with my SIM back in the smartphone as usual) is that it was very intense, coinciding with my own impressions, but I still don't have data to compare with more regular periods - when working from office / home, in usual places, commuting, etc. However, I wonder if some of the stats of smartphone use (although not including laptop use) during that month could indeed reflect a sort of rebound effect to some extent - I attach them too as a screenshot.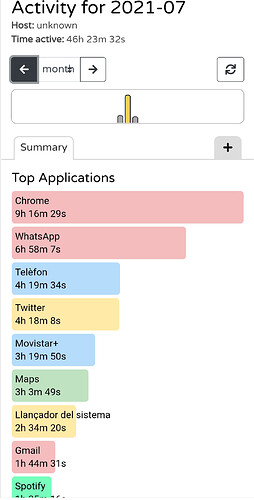 So any thoughts or advice on this welcomed too