Hello QS!
I've been hacking on Cactus for a while now and I think it's finally gotten to a good state that I'm very happy to share with you all!
The idea is simple: Sample ourselves randomly throughout the day, then we aggregate these samples to understand how our time was spent.
Random sampling is used to remove any bias and to increase the odds of catching you in activities that you would not think to log normally, say tabbing over to twitter for a minute.
Random sampling can give you a much more accurate view of how time was spent as it does a much better job of capturing intent then some of the alternative methods such as passive process monitoring.
This is what a sample might looks like: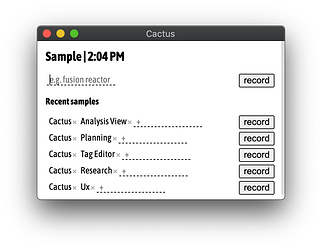 These samples would be aggregated into views for you as in the gif above.
There's a few views in place right now:
A Week View
A Day View - for editing samples and seeing what you did that day.
A 365 Year View - which stacks each day in the past year to give you a birds eye look at trends in your behavior
I've found it very useful personally, and figured it's time to share it with you people. (If you're concerned about data ownership and privacy, Cactus keeps all the data you collect on your machine)
link: https://getcactus.app/
Any thoughts or feedback you might have while using the app is very welcome, either directly in thread, DM or email me at davidrusu.me@gmail.com .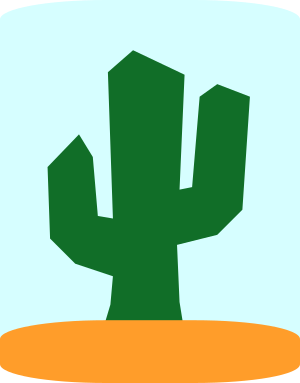 Enjoy
-David
P.S. If this concept sounds familiar, you might be thinking of tagtime, Cactus actually was inspired from using tagtime for a few months, the lack of automated data analysis was what I wanted to fix with Cactus.