It's not perfect yet, but I streamlined my Voice Calorie Counter for Android phones that I wrote in rfo-basic.
https://play.google.com/store/apps/details?id=com.rfo.speechcaloriecounter
I cut out a lot of features from the free version to focus on launch speed. I am pleased that I got the apk file down to 399kB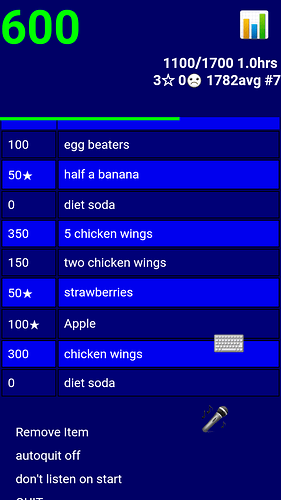 I am not sure the keyboard UTF-8 icon will work on non-Samsung phones but I wanted to use UTF's instead of PNGs to speed load time.
I didn't want to charge money for it, but I figured I should give my brother-in-law some pocket change for helping me a lot with debugging my early attempts.
The food diary data is stored in a single table in a SQLITE database so you can probably also use this app for logging all sorts of stuff with your voice.
I am still leaving the more bloated and slower one available for free so people can try it to see if they like it. It is kind of odd that I am charging more for fewer features.
The free (slower) one is still here: https://play.google.com/store/apps/details?id=com.rfo.speakcc