Hi everyone,
I'd like to let you know about SnoreLab: the new snoring analysis app for iPhone. The app records, measures and tracks snoring. It allows users to measure the effectiveness of any snoring remedies they try and to also see the impact of factors such as alcohol on their snoring.
I presented the app at the Quantified Self London meetup on 25th October.
SCREENSHOTS: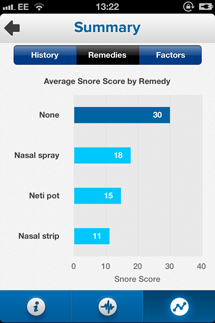 The app is receiving a great response from users but still needs to reach a wider audience. If you like it, please do help spread the word on Twitter, Facebook and elsewhere.
I will monitor this thread for your feedback. Note: it is possible that there are still a few bugs in the early versions so please let me know if you experience anything that doesn't seem right! support@snorelab.com
Jules Goldberg
Quantifier of Snoring
jules@snorelab.com