Dear all,
I have been experimenting with the way to display the combination of heart rate and activity data measured continuously during the day. The particular focus was to highlight the periods of (mental) stress, when there is a high heart rate with the low physical activity.
I have one favourite example of such stressful day - driving test. A lot of stress is between 10 and 12 - that is when I am being testes
Those snails are currently used to show the Biovotion VSM data.
This specific day actually brought me to the whole idea of the snail design - how you show the data of the combination of heart rate and steps counting / motion and how you will discriminate the Heart rate increase caused by the physical activity from the stress (mentally derived) heart rate increase. The solution was the multiparameter presentation - you use colour to represent the heart rate (response) and shape (length of the column) to represent physical activity (actuator). And then you allow the viewer to make the interpretation himself or herself by figuring out the response function. As soon as the pattern emerge viewer can see the abnormality, like this extended period of the high heart rate without physical activity.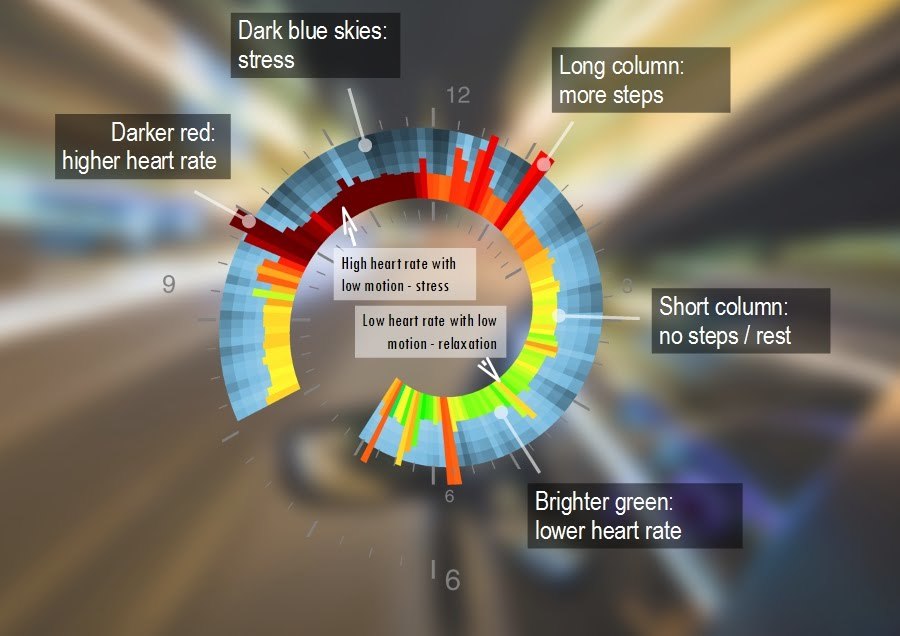 Please let me know how this data visualisation works for you and how you would want to improve it.
Originally posted on my blog https://sites.google.com/site/pzoptics/blog/thelegendofthesnail