Hi all,
Before starting this post, just wanted to say that it's cool that a community like this exists!
I've been measuring my heart rate variability (HRV) in the morning for the past year using a smartphone app, to inform me when I should try and spend more time relaxing (if possible) in a day, as would (I think) be indicated by a lower HRV level than my average. HRV theoretically measures your body's parasympathetic activity, or how rested your are physiologically. I find that if my HRV is pretty low on consecutive days, I feel pretty burnt out and miserable, and may experience symptoms like headaches and heart palpitations. So I try to keep my HRV levels higher, by doing things like replacing demanding activities (e.g. playing video games) with less demanding ones (e.g. listening to calming music) when possible. Morning HRV seems to be affected both by things that happen in the moment, and the restedness of your body, so that's something to watch out for. For instance, if I'm stressing out about something while taking my HRV measurement or if I sneeze, it will be pretty low. After taking the measure again though using my typical protocol (e.g. sitting in a calm state), then readings are often closer to what I would expect them to be.
Has anyone else ever measured their morning heart rate variability for an extended period? If so, have you found it useful?
I'm asking because I've really liked the measure, and am interested in contributing to efforts to make it useful clinically. However, I'm thinking that there's a chance that I may be overestimating its utility, especially if I've fallen into the trap of confirmation bias. If no one has used it (which I guess could be implied by no responses), that would be useful to know too haha.
Below I share some data I collected because I thought it was pretty cool, though possibly impacted by confirmation bias.
Below is my morning HRV collected over a stressful week at work:

Below is my morning HRV over a less stressful work week: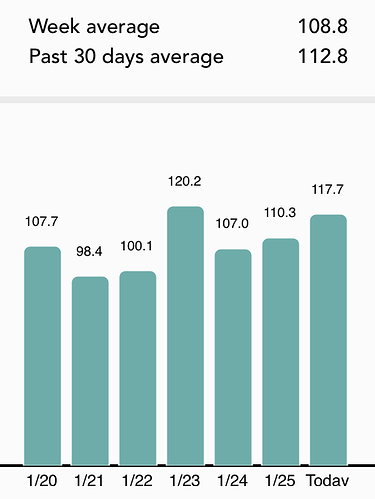 Thanks!
Ray