One of the problems I deal with managing schizoaffective disorder is moderate polydipsia. On many days I might drink more than 4-5L of fluid compulsively. This adds a great deal of edema to my body although I don't seem to ever have severe electrolyte issues probably because I often eat a high sodium American diet.
I have tried tracking my fluid intake but I easily get "tracking fatigue" from so many entries each day so instead I decided to start tracking my urine output.

The method I am using now is to measure my weight before and after urinating when I am home. When I am away I try to estimate my output proportional to the time it takes me. A typical weight of urination usually falls in the range from 0.5 to 1.2 lbs and this can amount to up to 9-12lbs daily output. If I defecate and urinate at the same time I just enter a standard minimum offset of 0.5lbs since I don't bother measuring separately.
I log each time I go to the bathroom into my Acal tracker app I made. The weight of urine is not much more than just plain water so I later convert this back to liters. My typical daily output is now 3 to 4L which is fairly normal for most males especially for hot summer days.
I find this method much less cumbersome and more effective than trying to log my fluid intake. I also suspect that my appetite seems more manageable. Psychologically I think I am trying to urinate less frequently and I often have the compulsive habit of taking in fluid after I urinate so by being more aware of this I tend to do it less.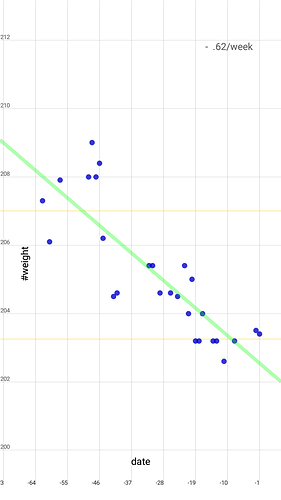 Through a combination of calorie restriction, increased
exercise, increased fiber intake and now fluid intake management my weight and blood pressure in the morning have been decreasing. I am losing about 0.6 lb per week in weight and my systolic pressure has dropped from 130 range down to about 115 before taking my blood pressure pill.
I will publish some graphs when I have some more substantial data since I have only been doing this for a couple days but I was pleased with the nearly immediate effect on my blood pressure.