I've been using an impedance scale for many years to observe my weight, BMI, and %fat, paying little attention to the other available metrics. When the numbers get too high (with, coincidentally, both BMI and %fat approaching 30), I get serious and start tracking everything in a spreadsheet, as I get into diet and exercise mode to drive those numbers back down toward 25. This time I'm three months into a reasonably healthy diet and exercise program with 1200 balanced calories and walking 5 miles daily.
Now, here is where it got interesting. I used the export function of my Bluetooth scale to analyze my weight, %fat, and %muscle data starting 3/12/2018. Multiplying weight times %fat and %muscle gives me fat and muscle in pounds, and I also get "other" in pounds where other = weight - fat - muscle.
Given that I'd always known that my objective included burning fat without losing muscle, I now used this data to actually evaluate how well I've done. The results were surprising: Although from 3/12/2018 to 6/12/2018 I'd lost 37.6 pounds, and reduced my waist from 47 down to 40 (still an obese 0.60 waist-to-height ratio), the spreadsheet calculations told me I had lost only 23.9 pounds of fat. I had also lost 3.1 pounds of muscle, and 10.6 pounds of "other."

While puzzling over what "other" loss meant, given the muscle loss, I went ahead and bought a Total Gym and started working on it daily, adding that exercise effort to my 5 mile daily walk. I then added a "Total Gym" reference line to the overall chart, now showing what fat and muscle loss looks like: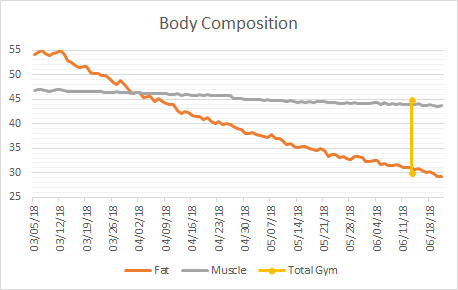 I'm still trying to pin down exactly what losing "other" means – hopefully it is losing the support structures and blood supply no longer needed because of adipocyte apoptosis. In the meantime, since now only about 53% of my weight loss this past week is fat – at least as far as what my impedance scale is counting towards my %fat, projections tell me I've still got to lose about another 29 pounds (putting me at rock bottom 18.5 BMI) to get my %fat below 12% and muscle above 33% with a healthier 33.5 inch waist (0.50 waist-to-height ratio).
Comments?